From ice hockey pro to the life of the party: Steve Davis in Journeys with Flo
Steve Davies, the CEO of Operto, is a Vancouver native with a rich multicultural background. In this interview, he offers us a glimpse into his unique journey, from childhood dreams of becoming a professional ice hockey player to his current role as a tech CEO in Vancouver.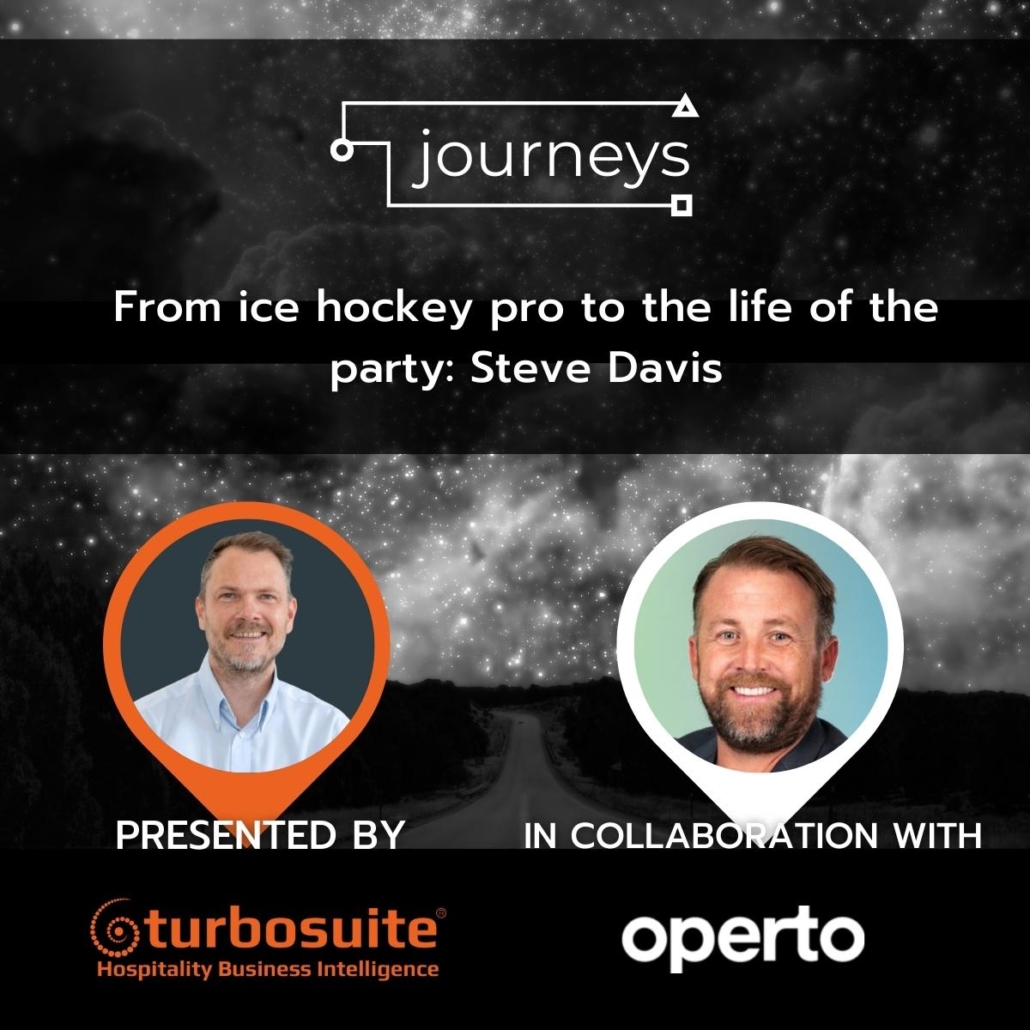 Steve's story begins with childhood aspirations of becoming a professional ice hockey player. Growing up, he dreamt of skating for the Vancouver Canucks. However, life had other plans for him. As a young boy delivering newspapers, he honed valuable interpersonal skills and developed a taste for business. These early experiences planted the seeds of entrepreneurship in him.
His journey took an unexpected turn when he ventured to South Africa to pursue an MBA. It was there that he began his career at Apple during a groundbreaking period, witnessing the launch of the iconic iPhone. Yet, the challenges of crime incidents prompted a move to London, where he thrived in consulting for major FMCG (Fast-Moving Consumer Goods) brands.
Steve's reflections highlight the diverse safety levels in different parts of the world, providing a unique perspective on how life experiences can shape one's career.
Steve fondly reminisces about his time in London. It was in the bustling metropolis that he met his wife and embraced the vibrant lifestyle the city had to offer. Living in a shared mansion house in West Hampstead, he experienced a constant party atmosphere that made this chapter of his life truly memorable.
Returning to Vancouver for the 2010 Olympics was a remarkable experience for Steve. He witnessed the city's transformation and celebrated the gold medal in men's ice hockey. Balancing work and personal life was a challenge, especially when his daughters were born in 2015. Steve emphasizes the importance of being fully engaged when spending time with his family, sharing insights on how he manages the work-life balance as a CEO.
Despite his early dreams of ice hockey stardom, Steve transitioned to field hockey, a sport in which he excelled. He even had the privilege of representing Canada on the national team, competing internationally in countries like Germany, Holland, Belgium, England, Spain, and South Africa. His journey reflects his ability to handle high-pressure situations and make the most out of every opportunity.
Steve's decision not to pursue the Beijing Olympics led him to South Africa, where he embarked on a different career path. He also found a way to combine his marketing experience and his passion for sports by getting involved in a tech company building a charitable platform for Canada. This showcases how his athletic background has influenced his approach to business.
Steve's journey with Operto began unexpectedly, with a LinkedIn request from a headhunter. During a vacation, he had a Zoom call with a mysterious person, who turned out to be Darren Houston, the former CEO of Booking.com. Despite feeling unprepared, this encounter led to a series of meetings, ultimately resulting in Steve being offered the CEO position at Operto in September 2020.
Steve candidly admits that he initially lacked knowledge about the short-term rental industry, including industry terms like PMS, OTA, and channel management. However, he embraced the rapid learning curve and found himself in an industry with a close-knit community where everyone seems to know each other.
As we look to the future, Steve envisions staying actively involved in the tech community in Vancouver. He sees himself contributing at the board level or in a similar capacity, drawing inspiration from mentors like Sam Shank. Steve is eager to share his experiences and insights with the next generation of entrepreneurs, emphasizing the value of individuals with experience in high-pressure situations.
In conclusion, Steve Davies's journey from aspiring ice hockey player to CEO of Operto is a testament to the power of adaptability, embracing new opportunities, and the impact of early life experiences on one's career. His story offers inspiration to those navigating their own career paths, showing that sometimes the most unexpected twists can lead to remarkable destinations.
Watch the full interview here.
https://turbosuite.com/wp-content/uploads/2023/10/ESjourney_steve.jpg
1200
1200
Sara
https://turbosuite.com/wp-content/uploads/2022/05/LOGO-Turbosuite_blanco.png
Sara
2023-10-27 14:25:58
2023-10-27 14:26:18
From ice hockey pro to the life of the party: Steve Davis in Journeys with Flo